Our hearts are glowing, our eyes are sparkling. And a small tear is even running down our cheeks, because we've been able to create a place for moments of bliss both great and small. For fulfilling moments that last. For you and for us.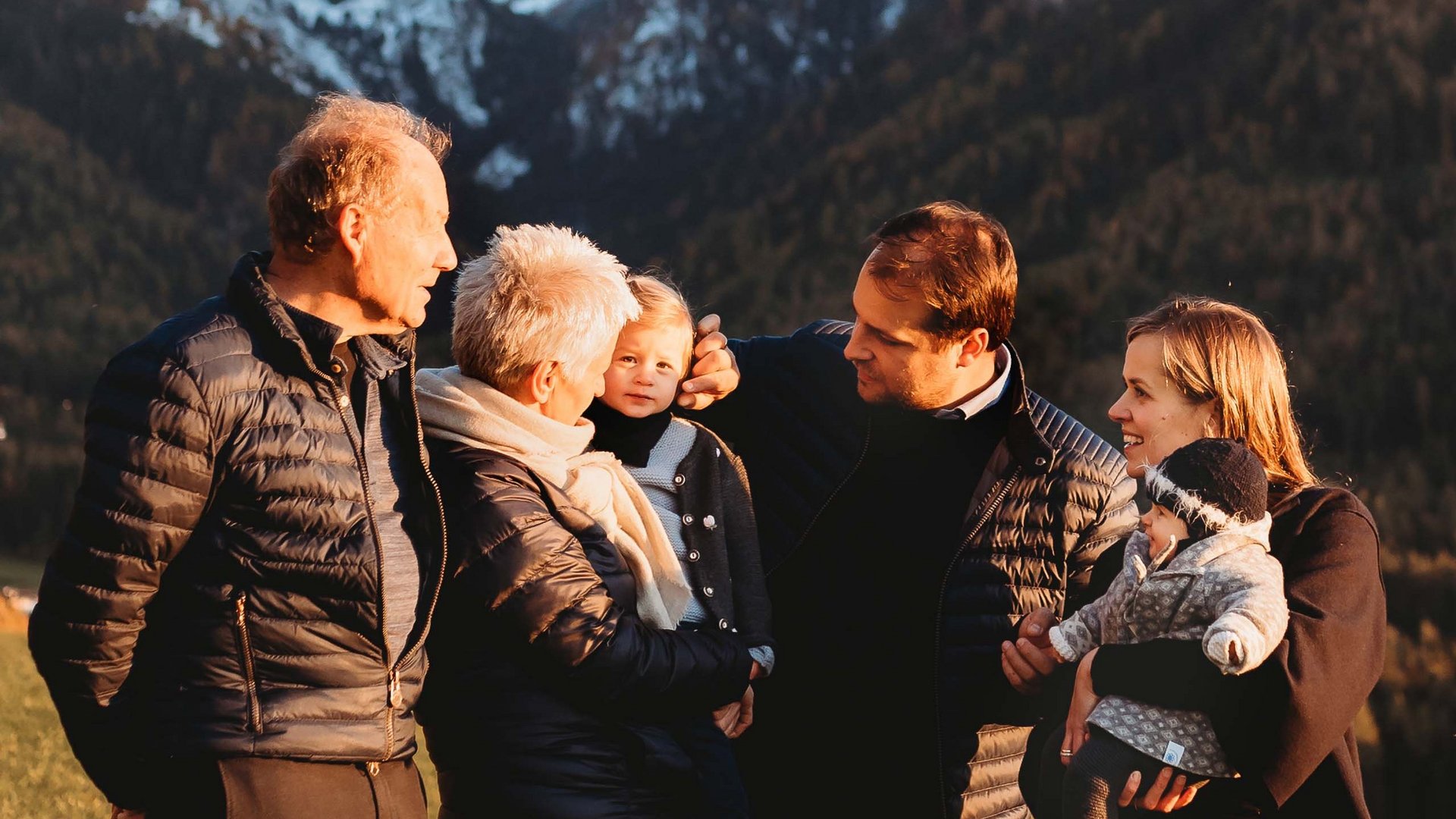 Hospitality is the art of inspiring your guests to stay without clipping their wings.
In a place of spiritual power dedicated to encounters and hospitality, we created our soul project Sensoria Dolomites after many years of planning. We? That would be Lea. A warm heart and sophisticated mind. Lover of languages, design, and architecture with a fine eye for detail. And Simon. Warm, innovative, and structured. Target- and future-oriented. Indispensable elements for our shared passion project. Together with the best team, our supportive parents(-in-law) Hanny and Leo, and our little sources of power Victoria and Carolina, we've made this dream a reality.
"We've been working on this idea for four years!" laughs Lea joyfully. "The moment that I realised our soul project would become reality is one I'll carry in my heart forever!"
Our history –
no revolution, but our evolution
The Ritterhof has seen our family story unfold: Our parents met there when they were just 17 and 19 years old. Hanny worked in the service/reception area, Leo as a chef. After spending several years working in other businesses, they returned to the Ritterhof when they were 26 and 28 respectively and decided to lease it. In 1994, they finally purchased the hotel and embarked on a major renovation in 2000, during which the existing 15 rooms were expanded to 28.
From the very beginning, the Ritterhof was a special project for Hanny and Leo. They quickly set all the usual thoughts of stars aside and concentrated instead on ensuring the highest quality across all areas. Over the years, their four children – Michael, Marc, Lukas, and Lea – all had the chance to contribute to the Ritterhof's success story and leave their mark.
After 10 years of travel to Vienna, Milan, Singapore, Edinburgh, and Paris, Lea knew her calling. She could feel that her bonds to her home were stronger than she'd ever imagined – and when her parents announced to the four siblings in 2014 that it was time for the next generation to take over, it was Lea who decided to take the helm of the hotel. She wanted to create something extraordinary. Lea has been active in the business's operations since 2015 and assumed leadership in 2018. Since 2020, she has been running the business together with her husband Simon.
Work. And Live.
In Balance.
We've created somewhere inspirational in the place we call home. With a team that can unfold its potential and is made up of hosts with heart and soul. You'll feel it. We look forward to seeing you in Seis am Schlern!
Lea and Simon with Victoria and Carolina
and the entire Sensoria Dolomites team