A world dedicated to what really matters
Doing little things with great love. With passion, courage, and an eye for what really matters. For moments that stay in your heart.
Place of spiritual power. Peace for the soul.
Here and now.
Sensoria Dolomites. A place of spiritual power for the outer and inner world. A place where these two worlds merge. Nothing is superficial: not beauty, benefit, or experience. Everything is taken in and becomes "Luxury for the Soul". You have the freedom to do exactly what feels right in the moment. And we take care of the rest.
Do you know the feeling? The one you wish you could hold onto forever? That is Luxury for the Soul.
True luxury is never superficial. Luxury is only real and meaningful when it fulfils its most important function: to bring our souls – which are the essence of who we are – enrichment, nourishment, and joy. Everything has a soul. Places of spiritual power like ours, people like us, who are hosts with heart, and everyone who visits Sensoria Dolomites, which acts like a balm for their souls. We invite you to share this special experience with us.
Silence isn't empty. It's full of answers.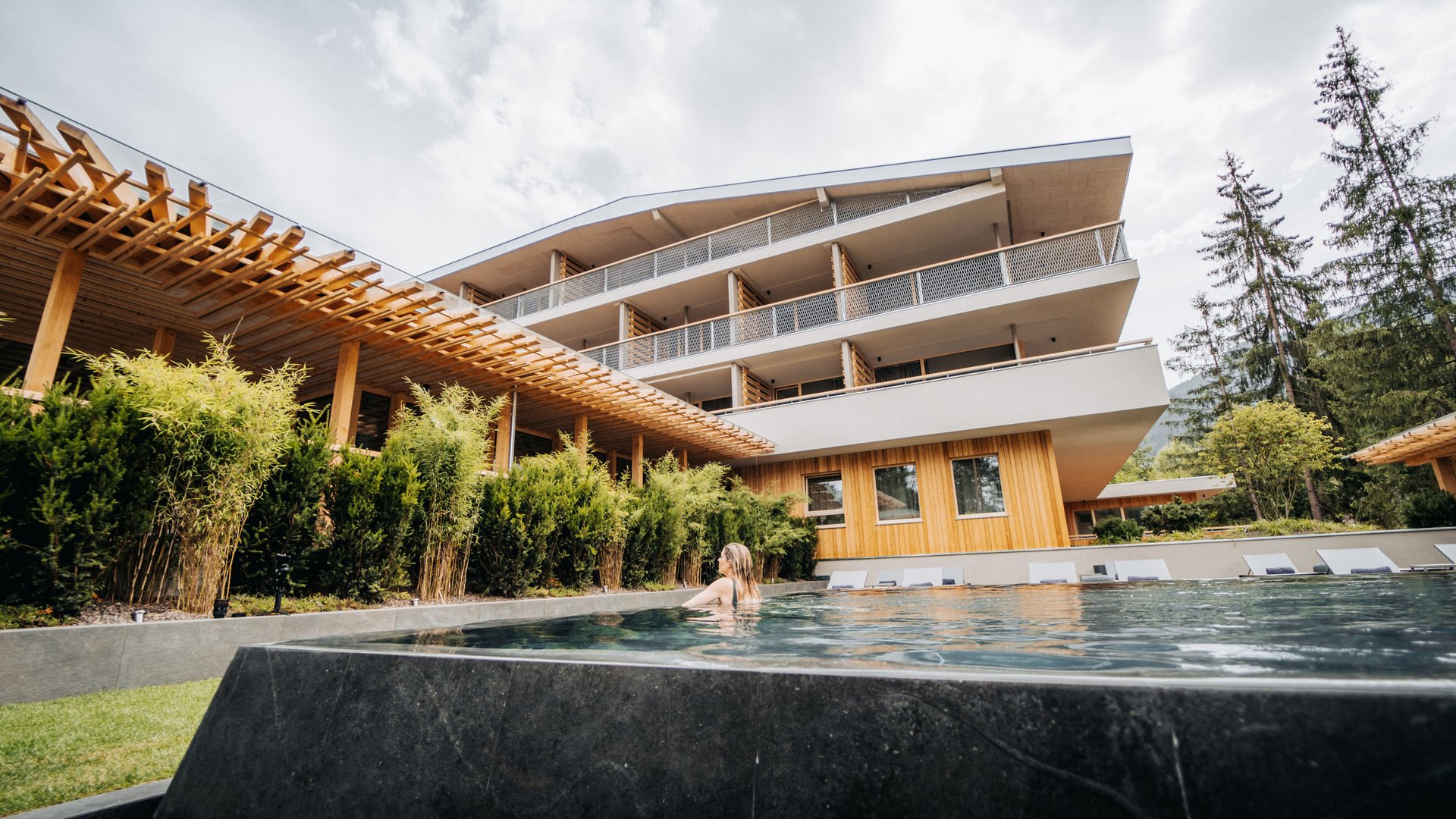 The tone of mind produced by architecture approaches the effect of music.
Johann Wolfgang von Goethe
Our architecture: where worlds meet in harmony
Rooted and timeless, yet fresh and modern. The hotel's harmonious architecture provides a tranquil backdrop for the philosophy and high standards of the host family. The materials: donated by Castelvecchio/Hauenstein forest and the mighty Sciliar/Schlern.
The heart of the hotel is the collection of pavilion-shaped wooden buildings on the ground floor. Shapes and lines from nature. Accents of Japanese architecture, which is closer to our mountain traditions than initially meets the eye. Sustainable solutions wherever possible. Roofscapes. The boundary between landscape and building melts away. Light-flooded courtyards. For perspectives, insights, and panoramas. Local wood. Mountain spruce covers our retreat like a second skin. Together with you, we give this body a soul.
We're making room for quiet moments. To hear more. We give you space for peace when you need it. We create a haven for quality time. Ready for an extraordinary holiday experience?
When will it be time for us to meet?