A summer holiday in the mountains:
you and your favourite people
A summer holiday in the mountains. South Tyrol in its purest form. Thriving nature everywhere you look. Soft grass under your feet. The sun on your skin. The fragrance of lush Alpine herbs in the air. The splashing of a stream in the background. Everyday life? Far away. The feeling? Enriching. That is Luxury for the Soul.
Sensoria Dolomites offers you the perfect base for finding peace. Give yourself space and time to discover South Tyrol!
Walking is the perfect way of moving if you want to see into the life of things. It is the one way of freedom.
450km of hiking trails . 7 summer lifts . 50 huts . 6 golf courses nearby . 4 via ferratas . countless bike trails
Alpe di Siusi/Seiser Alm: hiking through Natural World Heritage
Europe's largest high Alpine pasture. With majestic, far-reaching views of the Dolomites. Of Sciliar/Schlern, Punta Santner/Santnerspitze, Sassolungo/Langkofel, and Sasso Piatto/Plattkofel. The mountains help us slow down. Escape from the stresses of daily life. And immerse ourselves in the wonders of nature. Look forward to secluded hiking trails and action-packed bike routes. To forest solitude. To feeling at one with the world. And connected to nature. Just the soft stirring of the mountain breeze, birdsong, and you. By your side if you wish: our well-being & experience guide Patrick, who will take you on hikes and bike tours through the soul-inspiring nature of Alpe di Siusi/Seiser Alm. Your spring, autumn, or summer holiday in the mountains awaits.
Between every two pine trees there is a door leading to a new way of life.
When will it be time for us to meet?
Only a few metres separate our place of spiritual power from the valley station of the Alpe di Siusi/Seiser Alm cable car, the gateway to Europe's largest high Alpine pasture. And to 350 kilometres of well-marked hiking trails. Through blooming meadows up to panoramic peaks. And in between: a rest in a rustic mountain hut. Explore the natural landscape of the Dolomites – alone or on two guided hikes per week with our well-being & experience guide Patrick. Natural and cultural experiences in their purest form. That is hiking in Seis am Schlern.
Your summer holiday in the mountains wouldn't be the same without a round of golf? Our recommendation: Tee off with a Sciliar/Schlern view at St. Vigil Seis Golf Club. Just a few minutes away from your holiday haven. 18 holes with a driving range. As an exclusive partner hotel of the golf club, you can look forward to numerous benefits. Breathe in, find your swing, stay fit. Active holidays in South Tyrol are simply wonderful.
Leisurely rides over green meadows. Panoramic trails. Or action-packed mountain bike tours. 1,000 kilometres of routes. Starting right on our doorstep. Through Castelvecchio/Hauenstein forest over to Laghetto di Fiè/Völser Weiher, to Prösels castle, across Alpe di Siusi/Seiser Alm. Alone or accompanied by our well-being & experience guide Patrick.
We know every stone on Alpe di Siusi/Seiser Alm – and will let you in on our secret tips.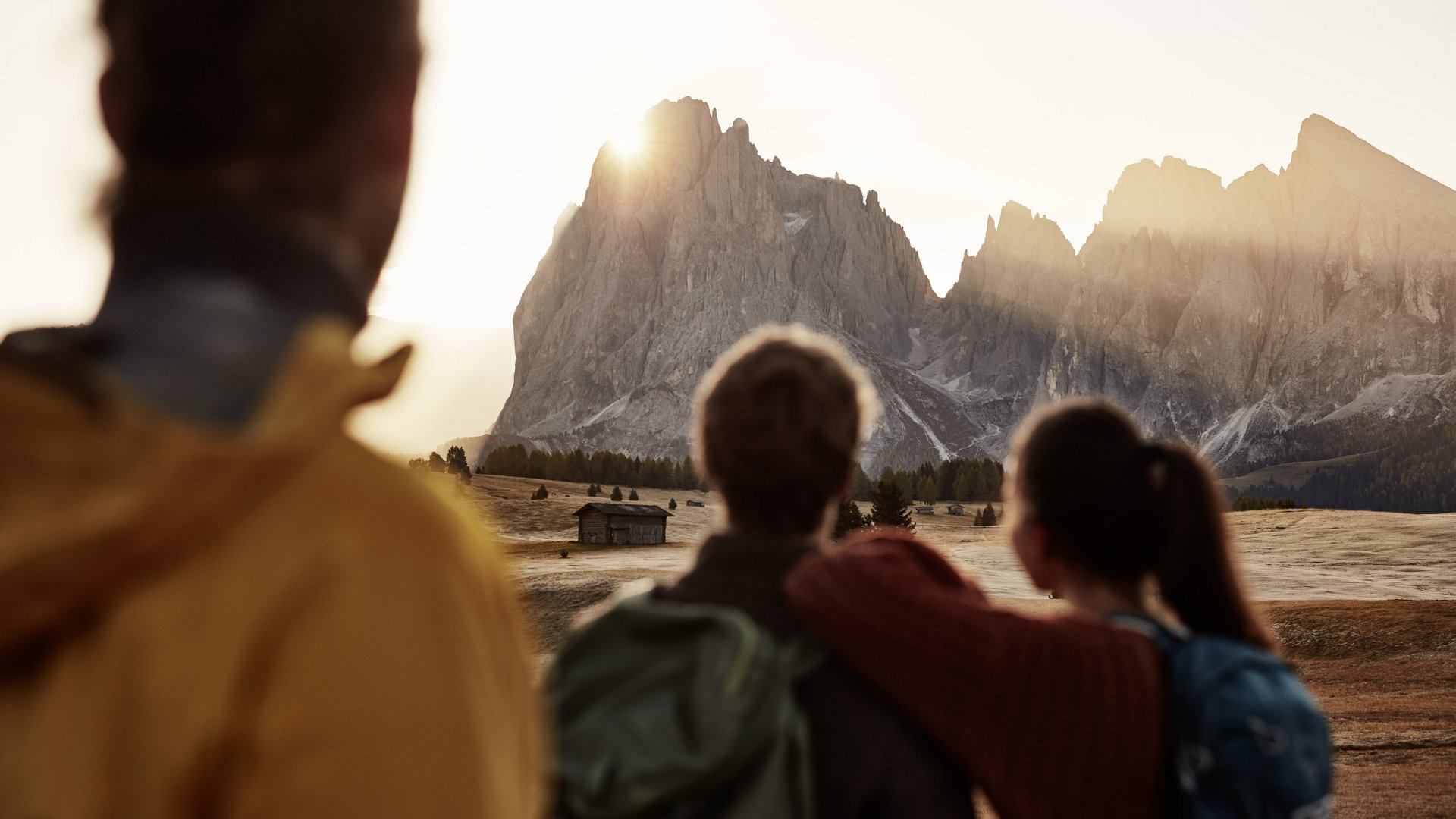 Wanted: hotel on Alpe di Siusi/Seiser Alm.
Found: Sensoria Dolomites, your place of spiritual power. Look forward to lasting moments. To take home with you. Not in your suitcase. But in your heart. So much more than a home for your holiday. Ready for your sensory journey?